It's no secret that planning an event is usually very stressful on everyone involved. As an event / meeting planner your greatest fear is to book a speaker or entertainer that will bore, disappoint or offend your participants. No need to worry about that with John Pullum. John's presentations are 100% clean and involve your entire audience. Do you need someone to entertain your guests? Do you need someone to entertain and motivate your guests at the same time? Are you having a company party, sales meeting, trade show, awards banquet, association function, private party or other event? John offers both corporate entertainment with or without motivation added. If you just want your guests to have fun or have fun and get motivated at the same time, John Pullum is the one you need for your event.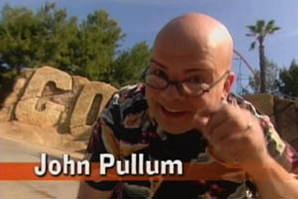 You may recognize John from his numerous television appearances. John was the host of the series "More Than Human" (Discovery Channel – 2003), the hypnosis / mind control expert for "Unsolved History" (Discovery Channel), the psychic expert for the "More Science of Magic" (Discovery Channel), game show host for "Thrill Rides: Put To The Test" (Discovery Channel), host of the series "Cheating Death" (Discovery Health), as well as appearing on other national and international TV shows.
John Pullum's clients include: 3M, Ford Motor Company, Prudential Financial, University of Notre Dame, Morgan Stanley, Hitachi, Nestle, Kobe Steel, SDI Technologies, Shell Oil Company, Association of Directory Publishers, KMart, Action Emco, PriceWaterhouseCoopers, Origen Financial, Bosch, Carrier, Flagstar Bancorp, Mariner Health Care, MTV and many more.
John combines just the right blend of motivation and entertainment to keep your audience laughing and entertained as he motivates them at the same time.
Call 313-538-3626 for more information or to hire John for an appearance at your next event.